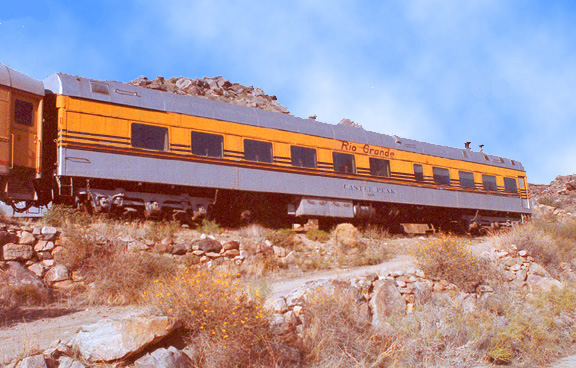 The "Castle Peak" as it appears today.

Built by American Car and Foundry for The Denver and Rio Grande Western Railroad in 1927, the "Castle Peak" was one of four cars built concurrently, named for famous "Peaks" along the route of the D&RGW. The others were "Pikes Peak" (now preserved at the Forney Museum in Denver), Sopris Peak, and Twin Peak.
The car was air conditioned in the 1930's with an ice system, and modernized with gasketed windows to seal the interior.
The car was used on such trains as the "Royal Gorge", "The Exposition Flyer", and several others until the advent of the streamlined "California Zephyr" in 1941. After that the car was assigned mainly to "The Prospector" until it was retired out of service in 1969.
The Castle Peak was donated to the Joshua Tree and Southern Museum in the early '70s and trucked to it's resting place from the Southern Pacific railhead in Indio.
The Car is now used as an interpretive display, giving our visitors a glimpse of what exquisite railway dining was like in the golden era of travel.
Click here to get info on our next "Dinner in the Diner".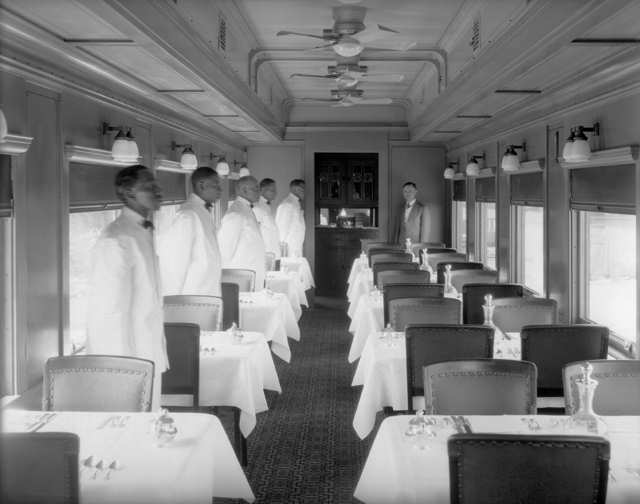 image courtesy Denver Public Library


The "Castle Peak" departing Oakland, CA in 1960 with four Western Pacific diesels and a RDC car.

D&RGW Folio page for the "Castle Peak"
Please visit the Castle Peak gift shop!